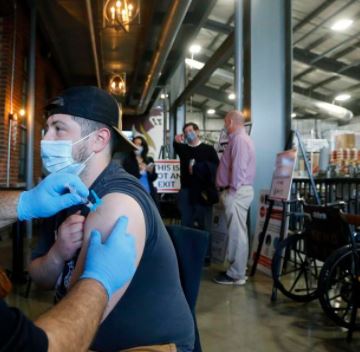 Tyler Morsch from Erie County, New York was debating whether or not to get a Covid vaccine until he heard those irresistible words "Free beer". All he had to do was walk across the bar and bare his arm, afterwards the county bought him a beer.
Mark Poloncarz, the county executive was nursing his own beer while directing vaccine recipients to the county's first Shot and a Chaser effort. How well did it work? As the staff began preparing injections at 11 a.m. there was a line out the door.
"We're going to do more people today at our first-dose clinics than most of our first-dose clinics in the last week combined," Poloncarz observed.
The week before the county's first-dose clinics have had less than two dozen people show up. But at Resurgence Brewery, the host of Shot and a Chaser, more than 100 received the vaccine and a beer by mid-afternoon. It is part of the county's effort to attract younger people in their 20s and 30s who have the highest rates of Covid-19 infections. 
Other Buffalo-based breweries have joined in the program, including  Flying Bison, Steelbound Brewery, and 12 Gates Brewing.
Beer Fest tickets available now at MBBF.org or follow this link  https://myidahotix.com/events/2020-mountain-brewers-beer-fest-6-6-2020-58530
To find a list of participating breweries follow this link https://northamericanbrewers.org/participating-breweries/
Copyright Gregg Smith – His latest book "American Beer History" a non-fiction awards winner is available on Amazon https://www.amazon.com/American-Beer-History-Mayflower-Microbreweries-ebook/dp/B07VCYRVGL/ref=sr_1_3?dchild=1&keywords=American+Beer+History&qid=1621093184&sr=8-3